Manage bookings and payments easily
Get a full-fitted venue site with facility booking system. A great solution for event, party, wedding, game venues, etc.
Awesome Features
DigitalEmergency Venue Booking Websites are powered by a smart facility scheduling software that provides all functionalities necessary for managing appointments, customers, and payments online.
Multiple Locations
Manage multiple locations each offering one or more venues that can be rented for different purposes. Set different details and available times for each location.
Multiple Venues
Assign and manage multiple venues to each location you have added. Set separate working time, price per slot, slot length, and availability for each venue you rent out.
Flexible Online Payments
Customers can pay safely and easily for the venues they wish to book using top online payment gateways. We can also integrate other payment platforms upon request.
Customer Management
Review your customers' personal and contact details. Export them into your client database. Add notes to each account. Create new client profiles manually.
Online Client Profiles
After logging into their online accounts, registered clients can check all their bookings and payments, and update their personal details, if necessary.
Price Management
Set custom rental fees and prices for all venues, facilities and extras you provide. You can also specify special discounts and deposit payments.
Ideally Suited For:
Event Venues
With DigitalEmergency Venue Booking Website you can present and rent out your halls and venues for different events such as concerts, performances, art exhibitions, etc. Start now!
Party Venues
You can also use our venue websites to showcase different locations and venues intended for organizing private parties, cocktails, birthday parties, kids parties, corporate events.
Wedding Venues
People tend to be looking for non-mainstream locations for their wedding parties. Make it easy for them to select and book a fancy venue and cool extra services!
Game Venues
You are running kids centers, escape room centers or other game centers and need to organize all bookings, schedules and extra services more efficiently? Try DigitalEmergency venue sites!
Key Benefits
No Booking Fees
In contrast to other online meeting room booking website solutions, DigitalEmergency Website Builder will not charge you for bookings made via your conference room reservation site.
Setup & Launch Support
Our friendly and tech-savvy Customer Success Team will guide your way and help you out with the initial setup and start of your meeting room venue website. You can count on us!
Multiple Languages
Select one default language and add as many alternative LTR & RTL language versions of your meeting room booking website as you need. Content translation is very simple!
Simple Content Management
You can change texts and titles on your venue site on your own with just a click on the respective content. Replace images in seconds from the intuitive image library inDigitalEmergency CMS.
Great Looking Designs
Get one of our ready-made venue website designs, check all available color themes, and request additional fine-tuning. We can also deliver unique custom projects upon request.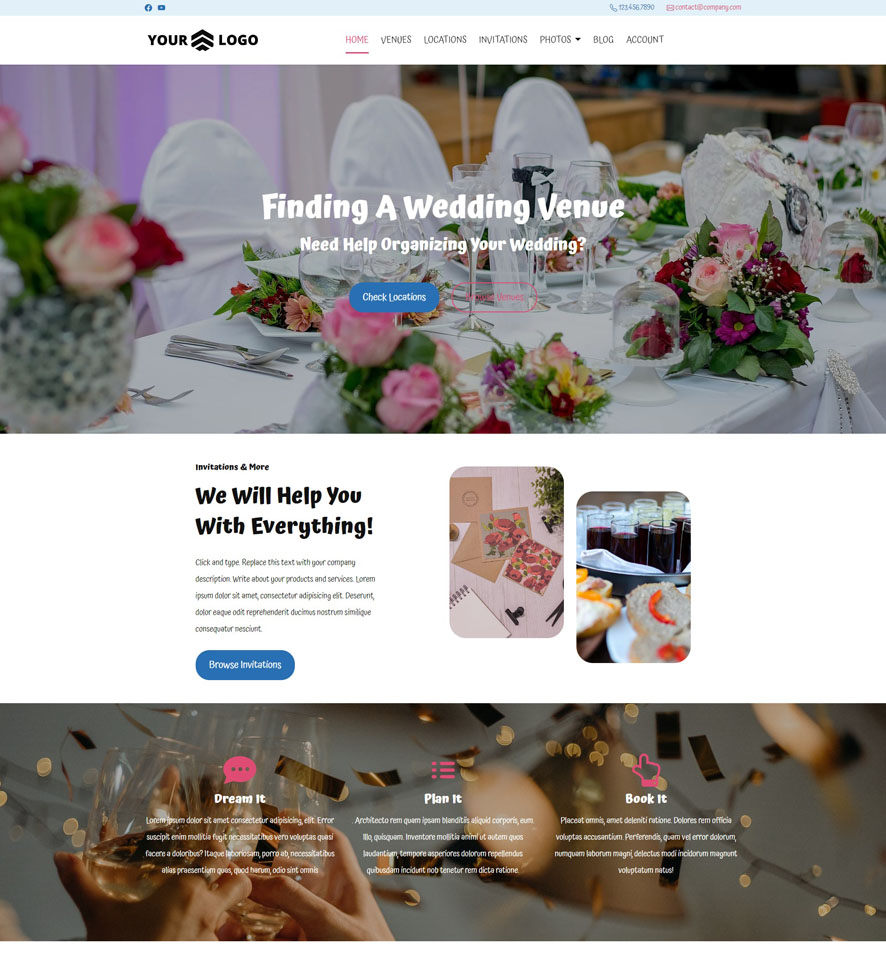 All websites created by DigitalEmergency Venue Website Builder are fully optimized for mobile devices and developed in line with the latest tech trends.