Manage online appointments with ease
Launch your fully fitted, mobile-friendly medical site to present your expertise and stay connected with your patients!
Awesome Features
DigitalEmergency medical websites come with an integrated appointment scheduling software and all must-have features. They can be used by therapists, dentists, vets, surgeons, and other independent healthcare practitioners.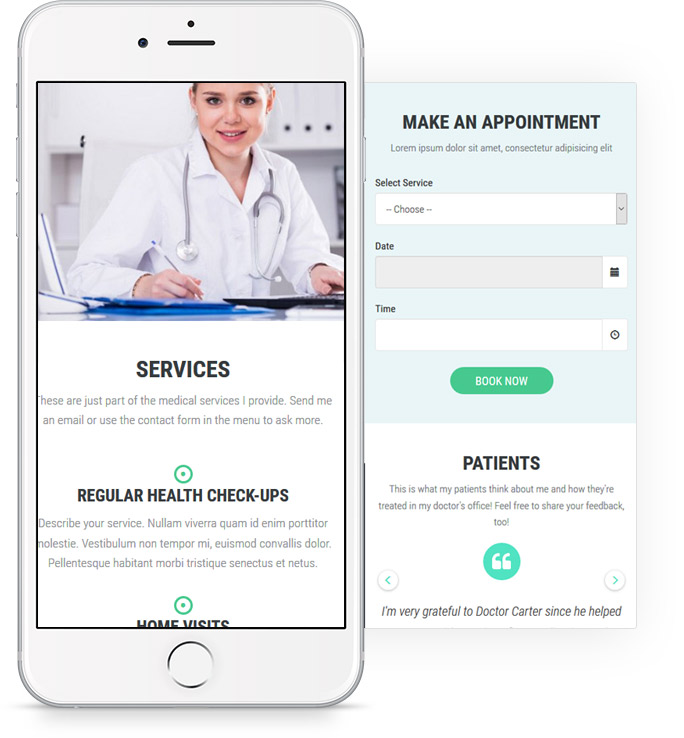 24/7 Online Appointments
Your patients can schedule an appointment quickly and comfortably both from home and on the go. You are free to customize the booking form and e-mail confirmations.
Health Services & Prices
Create informative profiles of all health services or consultations you provide. Add a short description, a few images, available times, price, duration, and blocked times.
Online & Offline Payments
Let your patients choose their preferred payment method. The most popular payment systems are already in. We can add other payment gateways as well.
Patient Dossiers
Store and review detailed profiles of each of your patients including their contact details, appointments history, and other additional health or case related notes.
Online Profiles & Chat
Patients sign up prior to making an appointment. They can update their account details, check consultations, and ask questions using the Web Chat.
Custom Office Hours
Setting your weekly visiting hours is very easy. You can specify particular time frames, breaks, and days off and update your schedule anytime, if necessary.
Perfectly Suitable For:
Therapists
People need counseling and consolation more than ever! Let them find you quickly, read more about you and how you can help them, and make an appointment online.
Chiropractors
In today's computer-bound world, people with back and neck problems search out Google to find those magic hands that will wipe away the pains. Let them book online!
Dentists
Looking for a complete online solution that will help you focus on your dental practice and optimize the appointment booking and patient management process? DigitalEmergency is here for you!
Veterinaries
Pet lovers worship their furry friends! Let them make sure they'll be in safe hands by reading more about your vet practice, skills, and references. Booking an appointment is the easy part!
Physiotherapists
Improve your patients' quality of life by remediating their impairments, promoting their mobility, and providing them with flexible and convenient online appointment booking services!
Plastic Surgeons
People striving for beauty and eager to become a better version of themselves will surely have high expectations of your online representation as well. DigitalEmergency cares about your image!
Key Benefits
No Booking Fees
DigitalEmergency Website Builder will not charge you for medical appointments made through your private practice website. There are no hidden fees!
Setup & Launch Support
With our friendly and tech-savvy Customer Success Team by your side, you won't feel lost! We will guide your way and help you out at all times!
Simple Content Management
In contrast to other website platforms, DigitalEmergency has a highly intuitive content management system. You can change texts and images in a snap!
Customizations & Add-ons
Depending on your software needs and aesthetic aspirations, we can make any tweaks and embed various web apps into your DigitalEmergency website.
Great Looking Designs
Pick any of our ready-made medical website designs, review their color themes, and request additional fine-tunings to fit your taste and needs. We can also deliver unique custom projects.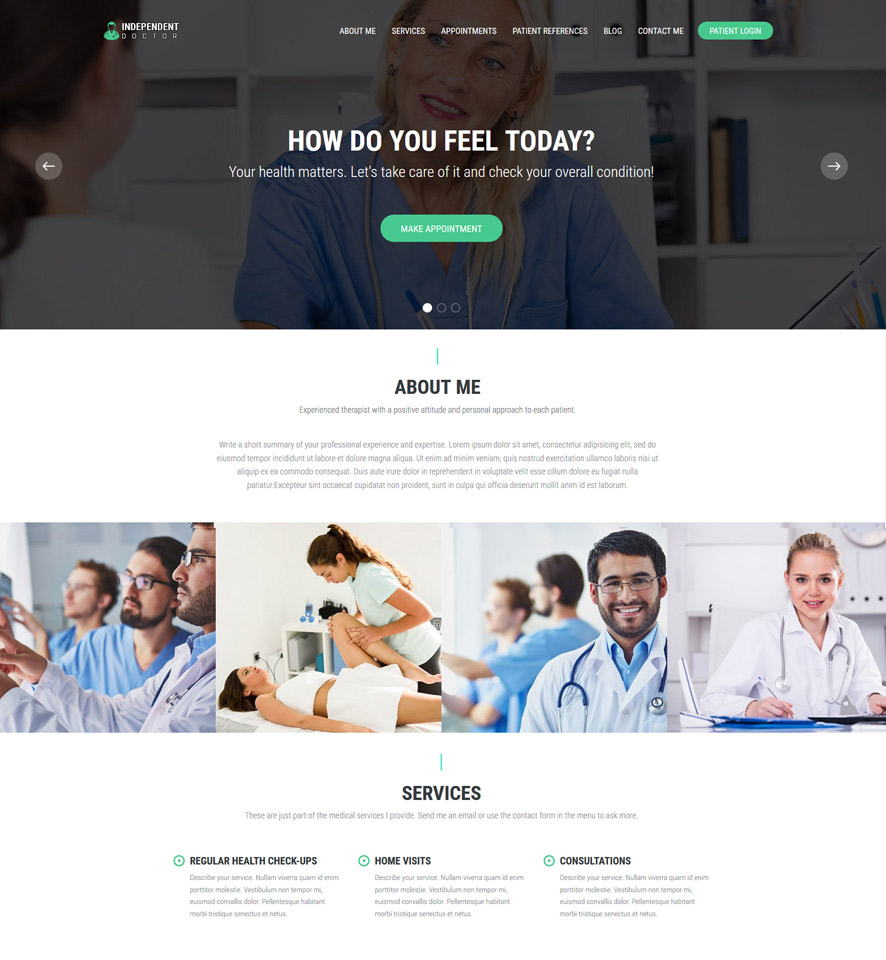 All websites created by DigitalEmergency Website Builder are fully optimized for mobile devices and developed in line with the latest technology trends.